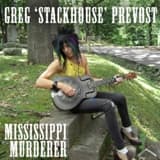 Prevost, Greg "stackhouse"
Mississippi Murderer
Debut solo album by Greg Prevost, singer/frontman of the Chesterfield Kings (best-selling, most respected and very first American "Neo-Garage" group). "Mississippi Murderer" is a true RnR artifact in which the artist seems to be settling scores with his recent past. A three-chord assault with plenty of excellent songs -the kind of numbers that most bands can only aspire to cover- sung by a truly unique voice, featuring plenty of attitude, splendid arrangements and slide guitar a go go. Influences? They come from Prevosts personal obsessions: the Delta blues, a sound which lies midway between the Yardbirds and the NY Dolls, and, naturally, the Rolling Stones at their best. And these references are not a simple list of R'n'R greats nor the usual hype aimed at potential buyers but exactly what you will get in this record. Enjoy!
Price
Genre
Format
CD - 1 disk
Release date
02-01-2013
Label
Item-nr
434158
EAN
8436006676192
Availability
In stock