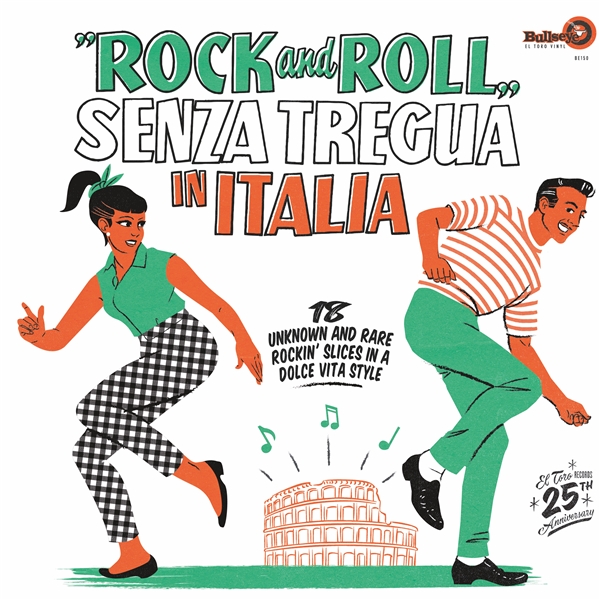 1 - VARIOUS - ROCK AND ROLL SENZA TREGUA IN ITALIA - (LP) UPDATED
BULLS EYE

"October 1956, in Italy a movie called "Rock Around The Clock" is released.The Italian given title is "Senza Tregua il RocknRoll": its the beginning of the Italian rocknroll era, at least on records and films.Before this, Swing music was widely diffused, and played in small venues in the cities.For instance, Fred Buscaglione recorded and released, on 78 single, the first version of his hit "Teresa non sparare" in 1955, and record like these, with an uptempo jazzy rhythm, were the beginning of a musical revolution that appeared the following year.In my diggings for Italian records of the 50s, I came upon a 7" EP by Quartetto Fineschi called simply "Rock and Roll": the runout groove etching on this states a date, "23-9-1956". It was recorded in September, one month before that movie hit the cinemas across Italy.Frankly, Im not sure this is the very first rocknroll record to be released in Italy by an Italian band, but, apart from the most famous early rock singers (Celentano, Mina, Little Tony), this was a real discover to me, and had an incredible beat indeed! I decided, then, to begin a hunt for rocknroll records released here in the 50s and early 60s: what youll find on this El Toro output is some of the weirdest and catchy rocknroll records Ive ever heard, and they surely add some unknown pieces to the early Italian rock history."

TRACKLISTING: 01. Clem Sacco E I Suoi Califfi - O Mama Voglio L'uovo Alla Coque (1961) 02. Ricky Sann - Grattacielo Rock (1959) 03. Lia Scutari E I Red Boys - Rossetto Sul Colleto (1959) 04. Renato Carosone E Il Suo Sestetto - Cowboy (1959) 05. Quartetto Cetra - L'orologio Matto (1956) 06. Complesso Gian Darix - Via (1961) 07. Johnny Mondo - Yuri Rock (1961) 08. Daina Mit E I Rockers- La Luna A Pezzi (1960) 09. I Brutos - Baby Rock (live) (1960) 10. Quartetto Fineschi - Rock A Beatin Boogie (1956) 11. Don Marino Barreto Jr - Don Marino Rock'n'roll (1958) 12. Carla Boni - Il Tuo Bacio Come Un Rock (1960) 13. Gino Latilla - Tequila (1958) 14. Roby Guareschi - Sei Troppo Bella (1960) 15. Johnny Dorelli - Ginge Rock (1959) 16. Johnny Baldini Con Franchino E I Suoi Dottori - Elettrico (1961) 17. Marino Amrini E Il Suo Quartetto - La Bella Del Giorno (1957) 18. I Brutos - Little Darling (live) (1960)

People who bought this item also bought GRINDHOUSE, CASINO, JOHNNY, FUZZIYAMA SURFERS, THE, FLAMING SIDEBURNS, ...

Format: LP

Disc Quantity: 1
Release date: 05-08-2022
Item # : 557886
Availability: 2/3 WEEKS, NOT IN STOCK

[login]