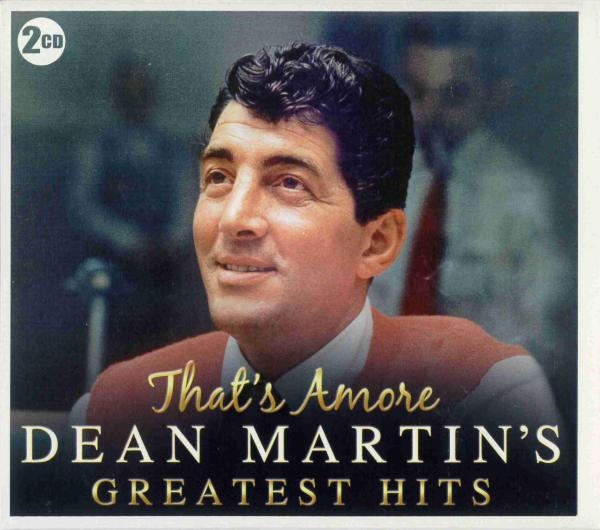 Martin, Dean
That's Amore - Greatest Hits
Price
Genre
Format
CD - 2 disk
Release date
01-09-2022
Label
Item-nr
558343
EAN
5024952383771
Availability
In stock
TRACKS
Disk 1
1. THAT'S AMORE
2. SWAY
3. VOLARE
4. KISS
5. YOUNG AND FOOLISH
6. THE MAN WHO PLAYS THE MANDOLINO
7. STANDING ON THE CORNER
8. WATCHING THE WORLD GO BY
9. ANGEL BABY
10. ON AN EVENING IN ROMA
11. FROM THE BOTTOM OF MY HEART (DAMMI, DAMMI, DAMMI)
12. HEY BROTHER, POUR THE WINE
13. YOU BELONG TO ME
14. UNTIL THE REAL THING COMES ALONG
15. SOLITAIRE
16. POWDER YOUR FACE WITH SUNSHINE
17. I'VE GOT MY LOVE TO KEEP ME WARM
18. ON THE STREET WHERE YOU LIVE
19. HEAVEN CAN WAIT
20. BABY, IT'S COLD OUTSIDE
21. YOU'RE NOBODY 'TILL SOMEBODY LOVES YOU
22. INNAMORATA
23. LET ME GO LOVER
24. MAMBO ITALIANO
25. OPEN UP THE DOGHOUSE

Disk 2
1. MEMORIES ARE MADE OF THIS
2. RETURN TO ME
3. AIN'T THAT A KICK IN THE HEAD
4. DREAM A LITTLE DREAM OF ME
5. TRUE LOVE
6. I'VE GROWN ACCUSTOMED TO HER FACE
7. GIGI
8. GEORGIA ON MY MIND
9. FOR ME AND MY GAL
10. WHO'S SORRY NOW?
11. WHAT A DIFFERENCE A DAY MAKES
12. BSAME MUCHO
13. C'EST SI BON
14. APRIL IN PARIS
15. I DON'T CARE IF THE SUN DON'T SHINE
16. DON'T LET THE STARS GET IN YOUR EYES
17. ON A SLOW BOAT TO CHINA
18. LA VIE EN ROSE
19. THE LAST TIME I SAW PARIS
20. I LOVE PARIS
21. BUONA SERA
22. I CAN'T GIVE YOU ANYTHING BUT LOVE
23. UNDER THE BRIDGES OF PARIS
24. NAUGHTY LADY OF SHADY LANE
25. HOW D'YA LIKE YOUR EGGS IN THE MORNING?