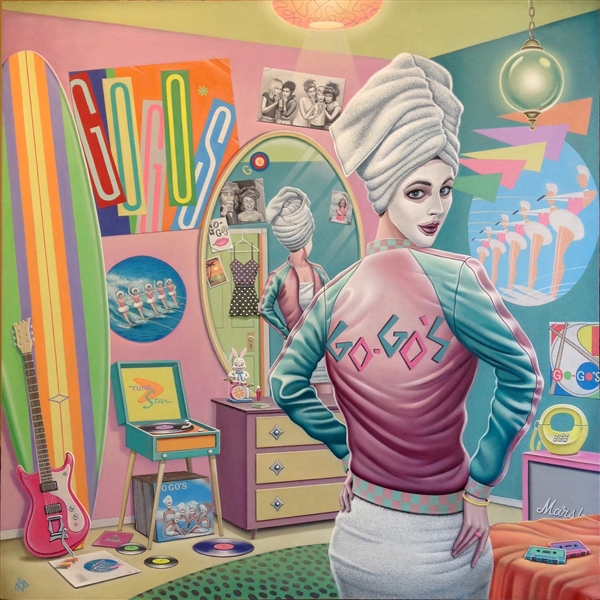 1 - VARIOUS - IF YOU GOTTA GO-GO, GO-GO NOW - (CD)
SYMPATHY FOR TH

"The groundbreaking album, Beauty and the Beat was released in 1980 ... Every track is a treasure, a mini teen drama immediately appealing, relatable and memorable ... From the very start they were instantly identifiable and maybe a little out of step ... They indeed had a unique vision ... It wouldnt be long till they would charm the pants off the entire world ... They had everything ... THE GO-GOS seemed to be more talented than most of their peers and they were always a few steps ahead ... In 1982 claimed the number one spot on the Billboard chart and stayed there for 6 weeks and of course it eventually went double platinum ... THE GO-GOS were the first all female band that wrote their own songs and played their own instruments to achieve that massive distinction...They soon proved to be a blueprint and an undeniable inspiration for like-minded girls and they spearheaded a deluge of hopeful girl bands ... Pretty much any successful female artist of the past 40 years will swiftly site THE GO-GOS as an important influence...Now Sympathy is releasing a tribute album to the girls who conquered a male dominated industry and essentially changed everything successfully rewriting the rule book...This tribute, If You Gotta GO-GO, GO-GO now features 24 bands...Included in the line-up are a few big-hitters and others youll likely be hearing for the first time...Ive been working on this since last year with the rather amazing Travis Ramin and tirelessly he has helped turn it into an impressive reality...This was in fact a daunting task and sadly some artists we would of liked to have recruited were unable to participate...Produced by Travis Ramin and with the Mighty GEZA X at the helm tying it all together we are confident it will be an amazing/heartfelt artifact honoring the brilliantly talented and ever-lovely GO-GOS ... - Long Gone John"

TRACKLISTING: 01. Fading Fast - Josie Cotton 02. Vacation - Fastbacks 03. How Much More - The Short Fuses 04. Tonite - Mike Skill/nikki Corvette 05. Beatnik Beach - Jennie Vee W/ Slim Jim Phantom 06. King Of Confusion - The Coolies W/ Clem Burke And Kathy Valentine 07. We Got The Beat - E.g. Daily 08. Get Up And Go - Pale Lips 09. We Dont Get Along - The Tweezers 10. Worlds Away - Miss Narr 11. Skidmarks On My Heart - The Heels 12. Head Over Heels - The Nutley Brass 13. This Town - Baby Shakes 14. Speeding - The Suitsixteen 15. Hes So Strange - Natalie Sweet 16. Surfing & Spying - The 5678s 17. You Cant Walk In Your Sleep (if You Cant Sleep) - Tina And The Boom Booms 18. Good Girl - The Chubbies 19. Lust To Love - Hayley And The Crushers 20. The Whole World Lost Its Head - Transatlantic Bunnies 21. Out Lips Are Sealed - Paul Collins Beat W/ Marci Marks (m&ms) 22. Turn To You - Juniper 23. Unforgiven - Caroline & The Yum Yums 24. Cant Stop The World - Holly And The Italians

People who bought this item also bought PARRISH, DEAN/PORGY AND THE MONARCHS, CARBONA, UNIVERSAL VAGRANTS, TAMBLES, THE, ...

Format: CD

Disc Quantity: 1
Release date: 15-04-2022
Item # : 555914
Availability: 2/3 WEEKS, NOT IN STOCK

[login]