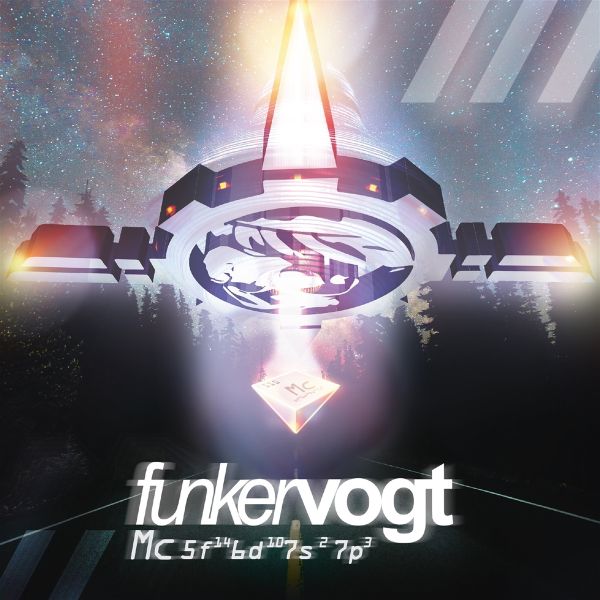 1 - FUNKER VOGT - MC 5F14 6D10 7S27 P3 EP - (CD)
REPO

Two months after the album "Element 115", Funker Vogt follows up with this EP, a 40-minute mini-album including five new songs and three remixes. Regarding the content, one remains true to the theme of alien conspiracies, which the title of this EP already indicates. " Mc 5f146d107s27p3 " is the representation of the 115th element in the periodic table of elements, where "Mc" stands for moscovium and the letter-number combination represents the electron configuration.So, it is an extension of the album, which at the same time can be seen as a conclusion of the topic. Funker Vogt does not answer the questions of pre-astronautics, but they ask them again. "Supernova" breaks out of this theme a bit, but largely fits in, as it is about the size of the universe compared to the insignificantly small human being.Musically, they move between 90 (The Unseen) and 144 bpm (Supernova), mostly in typical Funker Vogt EBM style. Songs like "Element 115", "The Path Of The Gods" or "Stranger" strike exactly into this notch. But Gerrit Thomas and Chris L. show that the bandwidth can also be bigger with the cyberpunky remix of "A Step Into The Dark", the massive dance number "Abducted" in the Ununpentium mix or the spacey "Supernova".All in all, this EP offers a lot of material for the clubs, which we are unfortunately not allowed to visit at the moment. But dance orders may be given anyway - just at home...

TRACKLISTING: 01. Element 115 02. Abducted (ununpentium-mix) 03. Supernova 04. A Step Into The Dark (eka-bismut-mix) 05. What If I'm Wrong (moscovium-mix) 06. The Path Of The Gods 07. Stranger 08. The Unseen

People who bought this item also bought NOACK, EDDIE, AMENRA, CIMARONS, THE, VARIOUS, ...

Format: CD

Disc Quantity: 1
Release date: 26-03-2020
Item # : 546819
Availability: IN STOCK

[login]