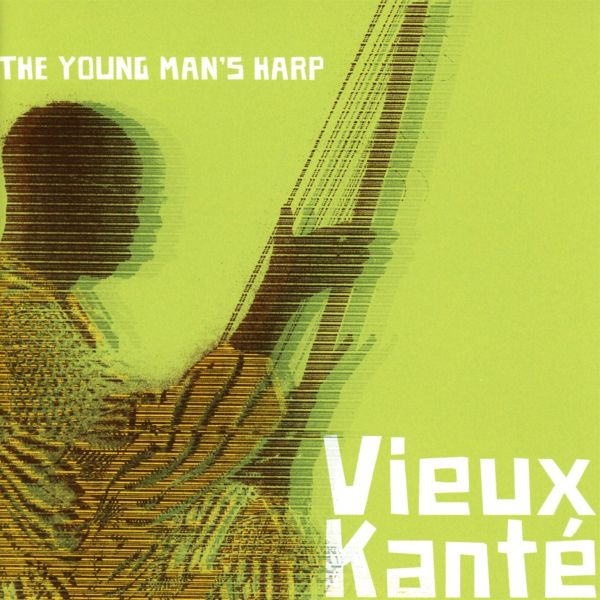 1 - KANTE, VIEUX - THE YOUNG MAN'S HARP - (CD)
STERNS

"Vieux Kante was born in 1974 in Niesmala in the Sikasso region of Mali" writes Banning Eyre, "Though blind from childhood he participated in music just like other kids. But his talent was obvious to all and he soon began borrowing his brothers six-string harp, the kamale ngoni (youth harp) while they were working in the fields, and learned to play the things he had heard on the radio and at local parties, where the instrument was then king. This instrument was not restricted by the secrecy and taboo surrounding hunters culture and, in fact, hadonly been invented in the 1960s. But in a few short years it had transformed village recreation throughout the Wassoulou region, so Vieux tapped into a deep vein of popular emotion when he emerged as one of the hottest young players." Towards the end of the 90s he visited Europe and recorded with Dutch saxophonist Hans Dulfer, and also with the pioneering big band, Fra Fra Sound, where he had a cameo appearance on Mali Jazz, their 1999 album. Back in Bamako he experimented with his instrument which, by 2000, boasted 12 strings. This gave him a wider range and what he called the "jazz notes". As Banning writes: "Vieux said that although they are not on the instrument, he could play them, "You have to do those yourself," he said, "using your own head." His fame spread across the villages and fields of the Wassoulou region of southern Mali. Songs were written in his honour and, somewhat confusingly, other artists with the same name also began featuring a kamale ngoni in their performance. "But when we met Vieux" Banning notes "he demonstrated amazing techniques . (and) it was obvious why he was considered one of the most dynamic and accomplished solo players in the country. At the time, word was he had recorded a cassette with his group, but it had yet to hit the market. Then, just a few months later in 2005, we heard that Vieux had died after a sudden illness."Its been a long wait, but finally that Mali-produced cassette finds an international audience on Sterns Africa as "The Young Mans Harp" features 3 songs with Kabadjan Diakite on vocals.

TRACKLISTING: 01. Sans Commentaire 02. Lambanco 03. Fatoumata * 04. Saradia 05. Sinamon * 06. Nafolo 07. Kono *

People who bought this item also bought GORIES, MAD CADDIES, SCHICKERT, GUENTHER, RADIO MOSCOW, ...

Format: CD

Disc Quantity: 1
Release date: 05-08-2016
Item # : 493270
Availability: IN STOCK

[login]