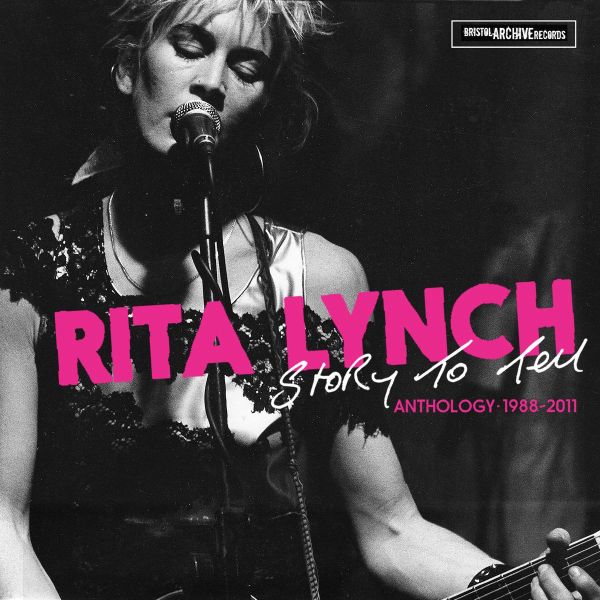 1 - LYNCH, RITA - STORY TO TELL - (CD)
BRISTOL ARCHIVE

Rita Lynch: a worthy heir of Patti Smith, The Velvet Underground, Poison Girls, Iggy Pop and Pauline Murray and gutsy contemporary of PJ Harvey, Liz Phair, Kirsten Hersh and Juliana Holter.This documents Rita's 30 years of work in the world's musical underground. She has produced nine outstanding studio albums to date. This compilation spans her career and includes unreleased demos, mixes and classic tracks which truly represent the breadth of Rita's song writing ability. Songs like 'Beautiful Eyes' and 'Call me your Girlfriend' and 'Rolla Coaster', included on this album, have been soundtracks to many people's lives. Her recent work with Blue Aeroplanes drummer and bassist; Jon Langley and Mike Youe have been her most productive yet.The daughter of Irish immigrants to London in the 1950's, she was brought up a very religious child and wanted to be a nun or a saint when she grew up. Instead, inspired by Bob Dylan, Irish traditional music and then the counter-revolution of punk rock, she became a songwriter and threw herself into every experience she could get. Hard drinking and living in squats, travelling Europe, experimenting sexually and living a life that challenged preconceptions of identity, led her to be upheld as a true Lesbian icon. She fought though, against the limits of any categorisation and made music that reflected that. Her work bristles with an aggression that is often softened by her words and her ability to write about humility, sexuality, religion and death speaks to all of us. Channel 4 made a documentary about her life and work called 'On the road with Rita Lynch' in 1998 and she has been inspirational for so many artists:

TRACKLISTING: 01. All Dressed Up 02. Illusion 03. Far Away 04. Call Me Your Girlfriend 05. Beautiful Eyes 06. Alright Alright 07. Losing 08. Love Goes On 09. Sweet Pain 10. Shiver 11. The Only Man 12. Rolla Coaster 13. Last A Lifetime 14. New Girl 15. Do You Dream 16. O God Above 17. So Good To Me 18. Remember Me 19. You Gotta Leave 20. Tied To You 21. I Can't Explain 22. Strip Right Away

People who bought this item also bought VARIOUS, DIE KRUPPS, FRONT 242, RADIO MOSCOW, ...

Format: CD

Disc Quantity: 1
Release date: 22-04-2016
Item # : 486931
Availability: IN STOCK

[login]