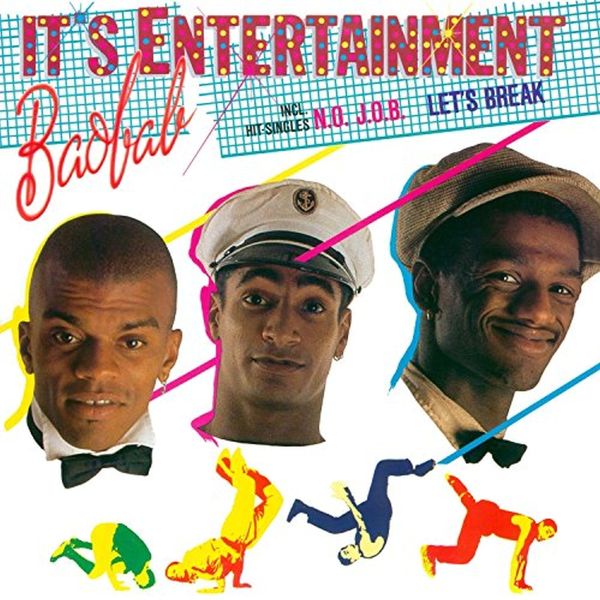 1 - BAOBAB - IT'S ENTERTAINMENT (DELUXE EDITION) - (CD)
DELUXECDMUSIC

The Breakdance Pioneers (Felix Felixine, Patrice Ayivi und Jos Thimonga) were former Professionals in Freestyle dancing, Rappers and Comedians, the German - French answer to the wave dance from the USA. They named their style, a mixture of acrobatic streetdance and breakdance, "Acrobatic Dance". In 1982, a duel (the Battle 1977) between "Rock Steady Crew" and "Dynamic Rockers" was immortalized in the Movie "Style Wars". A Performance from "Rock Steady Crew" in Lincoln Center was used by Charles Ahearn in the cult Movie "Wild Style". Other Movieslike "Flashdance" or Harry Belafontes "Beat Street" made the Breakdance known worldwide. Before the Breakdance Wave, inserted the Baobabs' to their own style different basic dance essentials from Fred Astaires Step -moves, James Browns Robot movements, Breakdance - Insertion from the Film "Blue Brothers" and some individual feeling.Robot-Boxing, pirouttes, flip-flops and a real firework of artistic tricks and danced sketches supplemented the danceacrobatic shows of this group. 1988 the funny band went their separate ways but their music and dance style have become increasingly important, so that, there are so many funny ''Street dancers" in many countries in the world, who earn their living through the dance. Experience again after more than 30 years, the one-time Scratches, breaks and electrifying dance moves of breakdancing pioneer.

TRACKLISTING: 01. Let's Break (ghettoblaster-version) 6:28 02. N.o. J.o.b. 5:36 03. We Love To Love 5:17 04. Boxing Fight 5:23 05. Charmaine 3:37 06. It's Party Time 5:20 07. Let's Break (street-dub-version) 5:42 08. N.o. J.o.b. (special Disco Re-mix Dub Version) 6:32 09. N.o. J.o.b. (radio Edit) 4:25 10. N.o. J.o.b. (dub Version) 4:20 11. Lets Break (radio Edit) 4:17 12. Lets Break (dub Version) 4:29 13. Charmaine (instrumnetal Version) 3:37 14. We Love To Love (another Version) 5:15 15. N.o. J.o.b. (instrumental Version) 7:07

People who bought this item also bought VARIOUS, BRAIN DAMAGE MEETS VIBRONICS, SENIOR ALLSTARS, THE, BALAKE, AMADOU, ...

Format: CD

Disc Quantity: 1
Release date: 10-07-2015
Item # : 477744
Availability: IN STOCK

[login]