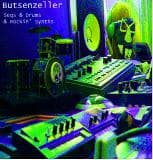 1 - BUTSENZELLER - SEQS & DRUMS & ROCKIN' SYNTHS - (LP)
JEZUS FACTORY

Butsenzeller is the 'nom de plume' of Geert 'Bootsie' Budts, an older youngster from Antwerp, who spent half his life behind drumkits, soundboards, computers, turntables and on stages in diverse bands and projects with DAAU, Kapitein Winokio and A Clean Kitchen Is A Happy Kitchen (where Bootsie teams up with former dEUS guitarist Craig Ward) as the probably most known. With the same nickname he also creates music on his own, most of the time with electronics. This is his 6th album and this time released by the almighty Jezus Factory. No more guestappearances like on his 2008 album 'Natt', no more dark ambient soundscapes like the former album 'Internal Bug' but this time a groovy collection of tracks that combines the man's passsion for all things bleeping, buzzing & rustling and his first love: the acoustic drumset. Except for mastering, pressing, printing and releasing everything is totally D.I.Y. An album that could appeal to fans of: Trans-Am, Add N to X, Apparat Organ Quartet, Squarepusher, Death From Above, No Means No, A Clean Kitchen Is A Happy Kitchen, Electric Electric, Paus, Residents and so on.....released on Slime Green vinyl

TRACKLISTING: 01. Low Impact Show (soothing Self Deprecating Psychedelics) 02. Bolerno (totally Redundant Second Track) 03. According To Plan (electric Stoner) 04. Connections (disturbing Social Network Electrock) 05. Rise And Shine (emotional And Groovy Wake Up Call) 06. Rhythmic Shapeshifter (even Tom Barman Shaked His Ass To This Killer) 07. Warpspeed (squarepusher Synths Over Rocking Sequences And Groovy Drums) 08. Minimum Trust, Maximum Care (noisy Politics) 09. Common Sense (noisy Politics Part 2) 10. As Jashtray As Traytrash Can (freaky Jazzy Finisher)

People who bought this item also bought SQUIRES, BLACK PUSSY, SMALTS, CHROME, ...

Format: LP

Disc Quantity: 1
Release date: 23-03-2015
Item # : 473172
Availability: IN STOCK

[login]