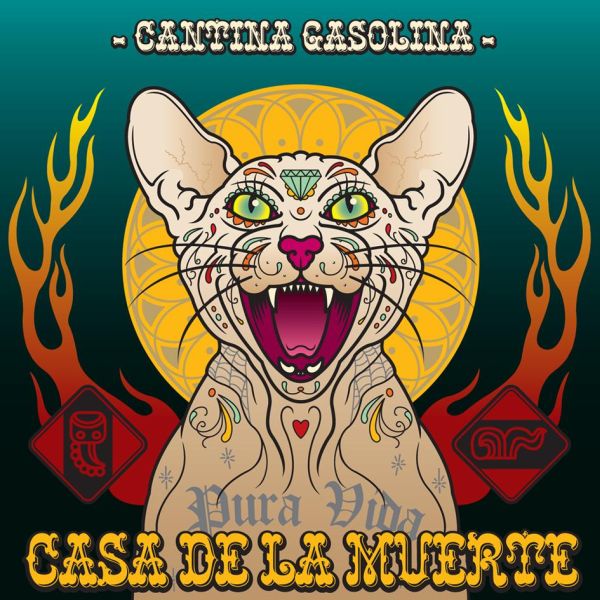 1 - CASA DE LA MUERTE - CANTINA GASOLINA - (CD)
CASA DE LA MUER

Murderers, Psychopaths, Blasphemists and Trainjumpers. Women who set their man on fire. Men who carry their wifes head in a plastic bag. CANTINA GASOLINA, Casa de la Muertes second album, is once again rife with desolate anti-heroes who, even with all their bad luck, continuously struggle to take life by the balls. They rise against their wife-beating husband, hide their alcoholic grandmothers vodka underneath their skirts and fight tooth and nail against all threats life brings. PURA VIDA! PURA VIDA!is the mantra they apply. Life is short; death lasts long enough and NOW is the moment to celebrate life. And Casa de la Muerte do, with a passion. The themes may be black as night, but they are being offered in a flying, skipping mix of polka, ska, rock and Balkan. Critics described the band as "perhaps the coolest band of Scumbash" and booking agents at Zwarte Cross, and many other festivals jumped at the chance to enlist them due to the orchestras now-infamous live reputation. With a male & female singer, three-voice backings and the energy of a tiger in heat, with CANTINA GASOLINA Casa de la Muerte deliver an album which only confirms their reputation. Dance the polka! Celebrate life! And whatever you do, do not try to decipher that weird Russian code in Stalingrad.

TRACKLISTING: 01. Gasoline Christine 02. Barracuda 03. Boom Chi Ki Boom 04. The Price Of Love 05. (don't Drink That) Vodka! 06. Pura Vida 07. Stop Banging My Head 08. The Boat Is In The Water 09. Stalingrad 10. The Train Is Coming

People who bought this item also bought FUZZTONES, HEAD CAT, 69 CATS, MIGHTY CAESARS, ...

Format: CD

Disc Quantity: 1
Release date: 01-07-2015
Item # : 474067
Availability: 2/3 WEEKS, NOT IN STOCK

[login]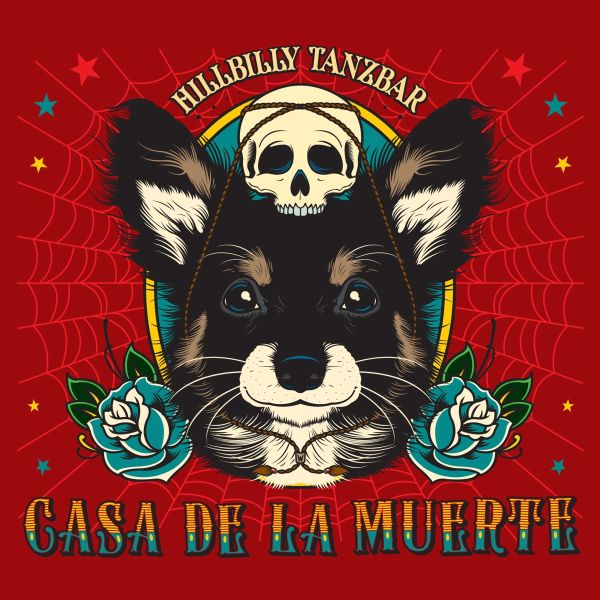 2 - CASA DE LA MUERTE - HILLBILLY TANZBAR - (CD)
CASA DE LA MUER

Hellbillymexicanbalkannederbeatrock! A wild energetic hot cocktail of rockabilly, balkan and mexican drenched in black humor. Recorded by Petra Randewijk (Jungle By Night) and Erik Drost (Legendary Pink Dots/The Dustbombers) and mixed by Peter van Elderen (Peter Pan Speedrock)!

TRACKLISTING: 01. Harveys Revenge 02. Road To Armageddon 03. Clean My Hands 04. Hi-ho Mountain 05. Pop-pop-pop 06. Bed Of Roses 07. In Vain 08. Buckets Of Rain 09. Motorcrash 10. Come On

People who bought this item also bought T-99, DR. KNOW, TEENGENERATE, ...

Format: CD

Disc Quantity: 1
Release date: 13-12-2013
Item # : 451057
Availability: IN STOCK

[login]