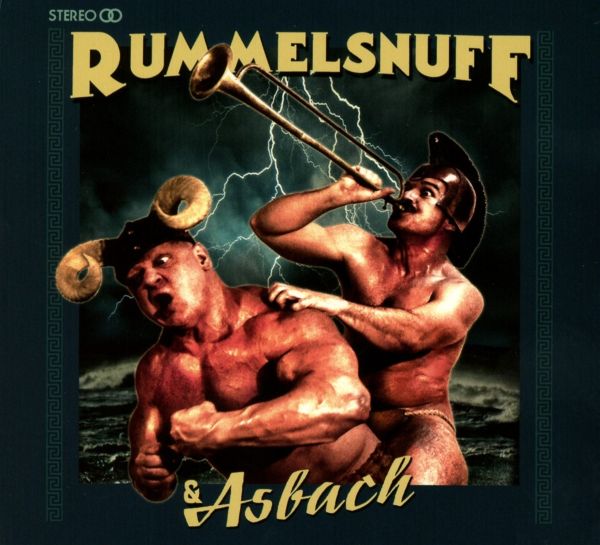 1 - RUMMELSNUFF - RUMMELSNUFF & ASBACH - (CD)
OUT OF LINE

The fifth album from Germany's most charming and relentlessly melodic strong man is here! Aficionados of the musclebound titan will most probably be aware of the fact that Rummelsnuff has actually been working as a team of super heroes for quite some time . hence, it is rather logical that his musical sidekick should also be featured in the album title, this time around. Captain Rummelsnuff and mate Asbach, the dynamic duo of raw electrified sounds (as defined in the German term "derbe Strommusik"), are singing of the burdens of hard labor ("Treidler", "Strassenbau"), about human cattle being fattened up with that certain cheese from the German "Harz"-region that many locals consider an acquired taste, while Dr. Rummel is dancing with his arch nemesis Mr. Snuff to an unexpectedly funky tune: On "Rummelsnuff & Asbach", no song follows the same stylistic traits as its predecessor, yet everything always remains thoroughly infused with Rummelsnuff's trademark sound. Electro-Punk, grand melodies, Folk, Disco, maritime songs... just about anything goes! Rummelsnuff, the ancient bodybuilder with the rusty dumbbells and Asbach, tenor baritone and offspring of a famous dynasty of German liquor distillers, are taking wide strides towards perfection... while cautiously avoiding it by any means.

TRACKLISTING: 01. Treidler 02. Stille Im Maschinenraum 03. Haferschleim 04. Crystal Ball 05. Helmut 06. Dr. Rummel Mr. Snuff 07. Eisengott 08. Harzer Kaese 09. Der Oger 10. Springkraut 11. Zuchtvieh 12. Strassenbau 13. Bis Zum Schluss 14. Bursche DISC #2: 01. Mikrowelle - El Perro (der Hund) 02. J. Blitz Gouthier - Vida De Vidro (crystal Ball) 03. Tua - Maschinenraum 04. Grzegorz - Bursche 05. Steve Van Velvet - Zuchtvieh 06. Erdling - Helmut 07. Lord Of The Lost - Bratwurstzange 08. Kuschelsnuff (king Khan, Bela B., Rummelsnuff) - Brueder

People who bought this item also bought MATA RATOS, UNZUCHT, LUCIFER'S AID, MOONSPELL, ...

Format: CD

Disc Quantity: 2
Release date: 02-09-2016
Item # : 494118
Availability: IN STOCK

[login]