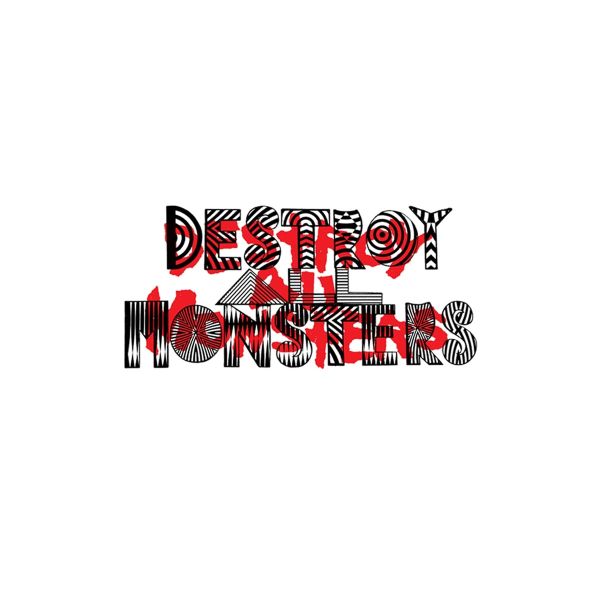 1 - DESTROY ALL MONSTERS - HOT BOX 1974-1994 - (LP)
MUNSTER

Destroy All Monsters are known by some for their role as bastion of resistance of Detroit's rock; for being, during their second period, the band in which Ron Asheton would reappear. For others, they are a pivotal reference point in the copious but relatively unknown avant-garde underground from the same city, after Thurston Moore and Byron Coley dug up their first recordings in 1996 and the original line-up reunited. Destroy All Monsters comprises two complementary and interconnected poles throughout the saga of the Motor City's music scene, from the University of Michigan's Cooperative Studio for Electronic Music to The Stooges, through to the White Panther Party. In its two incarnations, the experimental - led by Cary Loren, Jim Shaw and Mike Kelley - and the high energy one - with Asheton and Michael Davis from MC5 -, both featuring the phantasmagorical Niagara in the role of doped-up priestess, Destroy All Monsters are the object of one of the most devotional cults of America's cultural underground, as testified by their abundant artistic and record production. "Hot Box 1974-1994" is the first anthology to bring together the best outcome of those two hemispheres, including much unreleased material.

TRACKLISTING: 01. Ripped 02. That's My Ideal 03. Children Of The Night 04. From Edger Cayce 05. Confession. I Love You But You're Dead 06. I Want To Live 07. Silver Noise - Kill, Kill 08. Th Queen 09. Take Me With You 10. Unplugged In San Diego 11. Paranoid Of Blondes 12. Bored 13. You're Gonna Die 14. November 22, 1963 15. Meet The Creeper 16. What Do I Get? 17. Nobody Knows 18. Goin' To Lou's DISC #2: 01. These Boots Are Made For Walkin' 02. Jesus Is A Shotgun 03. Anyone Can (fuck Her) 04. Enough Is Enough 05. I Just Wanna Be Sleepy 06. Bored 07. Party Girl 08. Fast City 09. Go Away 10. Sweet Dreams 11. Little Boyfriend 12. The Right Stuff 13. Ground Zero

People who bought this item also bought REIGNING SOUND, DIRTY FENCES, WHODADS, THE, SLEEPER BILL, ...

Format: LP

Disc Quantity: 3
Release date: 25-11-2014
Item # : 466312
Availability: IN STOCK

[login]